FREE Muscle and Fitness Workouts
Get Super Fast Gains In
Muscle Building and Fat Loss!
Enter your first name and a valid email address
for instant access to the free workout routines.

Probiotic Supplements Benefits

We first need to clarify exactly what a probiotic is before we talk about the benefits of taking probiotic supplements. Probiotics are microorganisms which are typically bacteria that are thought to be beneficial to digestion and in preventing certain illnesses. Sometimes called "good" or "friendly" bacteria, probiotics are available in supplement form and are added to foods such as yogurt.

The acid in the stomach is very capable of destroying both the good and the bad bacteria so it is certainly not an exact science yet. Probiotics are composed of different types of beneficial bacteria and yeast, and they function to restore the gut by dividing and growing.

Probiotics function to increase the beneficial bacteria, such as Bifidobacterium and Lactobacillus, within the gut and defend the body from harmful bacteria. For probiotics to sufficiently affect various health conditions, the appropriate species and strain must be selected and administered in the proper amounts. The most common probiotics used as alternative or adjuvant therapy come from the Bifidobacterium and Lactobacillus genera. Within each genus are various species, such as Bidfidobacterium longum and Lactobacillus bulgaricus, and within each species are different strains, such as Lactobacillus plantarum 299V and Bifidobacterium longum ES1.

Thus, there are many combinations of various strains and species of probiotics, particularly of the Bifidobacteria and Lactobacilli groups, that could potentially benefit the gut. It goes without saying that your body makes its own probiotics all the time, but one can help the process and get results.

Studies show that supplementation might be necessary for these bacteria to grow within the gut. In addition to supplements, probiotics are fortified in some foods. Some examples of foods that claim to contain probiotics are various yogurts, kefir, cheese, etc.
The Best Probiotic Supplement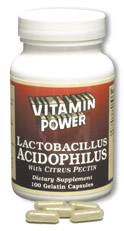 Lactobacillus Acidophilus Supplement
Lactobacillus Acidophilus supplements with citrus pectin is actually a friendly bacteria. It helps breakdown proteins, fats in food and carbohydrates, to assist the absorption of important minerals, vitamins and amino acids.

Each Lactobacillus Acidophilus capsule contains a specially-cultured strain of acidophilus organisms plus citrus pectin cellulose complex. This vitamin supplement helps provide you with the natural antibiotic designed to sustain good intestinal health.

Formulated without caffeine, corn, gluten, egg derivatives, salt, sodium, soy, starch, sugar, wheat or yeast added. In addition, no artificial colorings, flavorings or preservatives are added.

Recommended Use: As a dietary supplement, take 2 capsules daily, preferably with a meal.

250 capsules

Only $27.90 plus $8.00 S&H.




To order by phone call:

1-800-635-8970

10 am to 6 pm PST




Free Weekly Diet and Fitness Tips
Full of useful information, exercise tips, diet
tips and inspiration for us all, join today!

Click Here For Free Diet And Fitness Magazine


Disclaimer: The information presented on this website is intended only as guidelines. The instruction and advise represented herein is not intended as a substitute for medical or other professional counseling or training. Consult your physician before starting on any diet, exercise program or supplements.