FREE Muscle and Fitness Workouts
Get Super Fast Gains In
Muscle Building and Fat Loss!
Enter your first name and a valid email address
for instant access to the free workout routines.

Multivitamin and Mineral Supplements Benefits

We get a lot of our daily food requirements from our diet even if it is a bad diet we can usually survive, one way or another. The point is the objective of optimal health and is it possible.

There have been certain groups in society that have been identified to have a greater need of mineral and vitamin supplementation. Generally it is usually when the body manifests in something like flu or a bruising or an infection that most people start looking at vitamin and mineral supplementation.

The list of people most at risk for malnutrition and the need to supplementation.

1. Women of childbearing age (need extra calcium and iron)

2. Pregnant or lactating women

3. Children and teenagers with irregular eating habits

4. Seniors

5. Vegetarians or vegans (may be deficient in key nutrients)

6. Dieters or people avoiding certain food groups (may be deficient in key nutrients)

7. People with eating disorders or medical conditions (deficiency diseases, absorption problems, lactose intolerance, etc.) 8. People who often eat processed and fast food

9. Athletes

10. Bodybuilders or anyone that works out

It should be noted here that there is no substitute for good nutrition and more than likely there never will be. Our bodies are designed to digest food on a daily basis and the old saying "we are what we eat" is truer now than it has ever been because the high rate of cancer in the USA is daunting.

The word "supplement" means something added. In this case, you're "adding" to a basic healthy diet and lifestyle, or to a prescription medication or therapy to treat a medical condition. An herbal supplement or vitamin regimen on its own will not necessarily cure or treat your condition or heath problem.
The Best Multivitamin and Mineral Supplement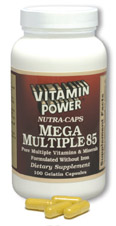 Mega Multiple 85
Food alone may not be enough to provide you the recommended daily value of certain vitamins. Taking a multivitamin capsule like Mega Multiple can help fill that gap and is especially helpful for those who are sensitive to corn, egg, milk or milk-derived ingredients, salt, soy, sugar, wheat and yeast.

Mega Multiple 85 Nutra-Caps is a full-spectrum, easy-to-take multiple vitamin-mineral supplement with the following ingredients:

Each 2 Capsule Dosage Contains:

Vitamin A(as retinyl acetate and 5% as beta carotene) 5,000 IU
Vitamin C (as ascorbic acid) 250 mg
Vitamin D (as ergocalciferol) 400 IU
Vitamin E (as oil-free alpha tocopherol acetate) 30 IU
Vitamin B-1 (as thiamin HCl) 85 mg
Vitamin B-2 (as riboflavin) 85 mg
Niacin (as niacinamide) 85 mg
Vitamin B-6 (as pyridoxine HCl) 8.5 mg
Folate (as folic acid) 400 mcg
Vitamin B-12 (as cyanocobalamin) 85 mcg
Biotin 300 mcg
Pantothenic Acid (as D-calcium pantothenate) 85 mg
Calcium (as calcium carbonate) 100 mg Magnesium (as magnesium oxide and aspartate) 40 mg
Zinc (as zinc aspartate) 15 mg
Copper (as copper aspartate) 0.2 mg
Manganese (as manganese aspartate) 2 mg
Potassium (as potassium chloride) 99 mg
PABA 85 mg
Inositol 85 mcg
Choline Bitartrate 85 mcg
Rutin 25 mg
Citrus Bioflavonoids 25 mg
Betaine HCl 25 mg
Hesperidin Complex 5 mg
L-glutamic Acid 25 mg

Mega Multiple 85 represents our premium blend of nutrition, science and nature in convenient multivitamin capsules.

Mega Multiple 85 multivitamin capsules do not contain caffeine, sugar, sodium or starch. No corn, yeast, wheat, soy, egg derivatives or milk by-products are used and there are no; fillers, binders, coatings, artificial colors, flavors or preservatives.

Recommended Use: As a dietary supplement, take two capsules daily, preferably with a meal. You may take one capsule with your morning meal and take the second capsule in the afternoon.

250 capsules

Only $59.90 plus $8.00 S&H.




To order by phone call:

1-800-635-8970

10 am to 6 pm PST




Free Weekly Diet and Fitness Tips
Full of useful information, exercise tips, diet
tips and inspiration for us all, join today!

Click Here For Free Diet And Fitness Magazine


Disclaimer: The information presented on this website is intended only as guidelines. The instruction and advise represented herein is not intended as a substitute for medical or other professional counseling or training. Consult your physician before starting on any diet, exercise program or supplements.