FREE Muscle and Fitness Workouts
Get Super Fast Gains In
Muscle Building and Fat Loss!
Enter your first name and a valid email address
for instant access to the free workout routines.

Digestive Enzymes Benefits

Enzymes are the sparks that start the essential chemical reactions our bodies need to live. They are necessary for digesting food, for stimulating the brain, for providing cellular energy, and for repairing all tissues, organs, and cells. These vitally important life giving enzymes there are separated into three different types.

There are three types of enzymes: metabolic enzymes, digestive enzymes, and food enzymes. Metabolic enzymes catalyze, or spark, the reactions within the cells. The body's organs, tissues, and cells are run by metabolic enzymes. Without them, our bodies would not work. Among their chores are helping to turn phosphorus into bone, attaching iron to our red blood cells, healing wounds, and seeing that our hearts beat.

We are looking specifically at digestive enzymes which are secreted by the pancreas and break down foods, allowing their nutrients to be absorbed into the bloodstream and used in body functions. They ensure that we get the greatest possible nutritional value from foods.

Digestive enzymes include protease, which digests protein; amylase, which digests carbohydrates; lipase, which digests fats and oils; and maltase, which digests malt sugars and grains. Food enzymes are slightly different as they come from the food we eat and are not manufactured by the body.

They include digestive enzymes, but also enzymes unique to the particular foods. Food enzymes help us "predigest" foods; that is, start breaking down foods before our bodies' enzymes begin to do so. According to Santillo, the enzymes found in raw foods digest 5 to 75 percent of the foods themselves without the help of other enzymes. This way, our bodies' digestive enzymes have help in the digestive process, and we do not use as many of the body's "in-house" enzymes.

It is important to remember that food enzymes are destroyed at temperatures above 118 °F. This means that cooked and processed foods contain few, if any, enzymes, and that the typical diet found in industrialized countries is enzyme-deficient. When we eat cooked and processed foods, we could well be eating for a shorter and less-than-healthy life. This points back to the importance of eating raw fruits and vegetables because they are "live foods"; that is, foods in which the enzymes are active. The more enzymes you get, the healthier you are. And the more raw foods you eat, the more enzymes you get.

Digestive enzymes help us digest foods more completely. This means more nutrients (and maybe eating less!) and the good health that goes with them. There is another advantage to being sure that foods are well-digested. When foods are not well-digested, they remain in the stomach and can rot and putrefy.

This results in a buildup of waste in the colon. This fecal matter begins to decay, producing bacteria and toxins. The toxins eventually seep through the bowel wall, where blood capillaries pick them up and distribute them throughout the body. This can result in health problems. These problems include constipation, stomach bloat, poor digestion, gas, fatigue, weight gain and weight loss, headaches, and more. Using digestive enzymes ensures that your foods are more completely digested, helping to eliminate potential problems due to toxins.
The Best Digestive Enzymes Supplement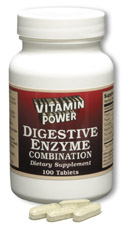 Digestive Enzyme Combination
Digestive Enzyme Combination is an excellent way to provide nutritional value to help improve your digestion naturally.

Our digestive enzyme vitamins contain an effective combination of six enzymes that work in the digestive tract to break down foods into simple digestive form for more efficient utilization of important nutrients.

Each easy-to-take, protective clear -glazed digestive enzyme supplement contains:

Pepsin 100 mg
Papain 30 mg
Diasdase 60 mg
Betaine HCL 60 mg
Pancreatin 516 mg
Extract of Ox Bile 129 mg

Digestive enzyme supplement tablets contain no caffeine, corn, gluten, milk or egg derivatives, sodium, soy, starch, sugar, wheat or yeast, artificial colorings flavorings or preservatives.

Recommended Use: As a dietary supplement, take one tablet daily with each meal.

250 tablets

Only $32.90 plus $8.00 S&H.




To order by phone call:

1-800-635-8970

10 am to 6 pm PST




Free Weekly Diet and Fitness Tips
Full of useful information, exercise tips, diet
tips and inspiration for us all, join today!

Click Here For Free Diet And Fitness Magazine


Disclaimer: The information presented on this website is intended only as guidelines. The instruction and advise represented herein is not intended as a substitute for medical or other professional counseling or training. Consult your physician before starting on any diet, exercise program or supplements.